A Brief Introduction to
The History of the Mendicant Orders in the Medieval Provinces of Dacia
hree mendicant orders were present in medieval Scandinavia. The first Friars Preachers (Dominicans) arrived in 1220, the first Friars Minor (Franciscans) followed in 1232, and finally the Carmelites joined in from 1410; attempts of the Augustinian Hermits to settle in Scandinavia in the 14th century never succeeded. In total, 96 mendicant convents were established in the three Scandinavian kingdoms, which for all three orders were chosen to constitute a regional province within the orders. And in all three cases, this northernmost province was named Dacia (on the background of the name, see Jakobsen 2012). The Dominican province of Dacia saw the foundation of 35 convents (31 male and 4 female); the Franciscan province of Dacia counted 52 convents (48 male and 4 female); and the Carmelite province of Dacia came to consist of 9 convents (all male). Their history in medieval Scandinavia ended with the Protestant Reformation in the 1520-30s, which led to the dissolution of all mendicant convents.
<![if !vml]>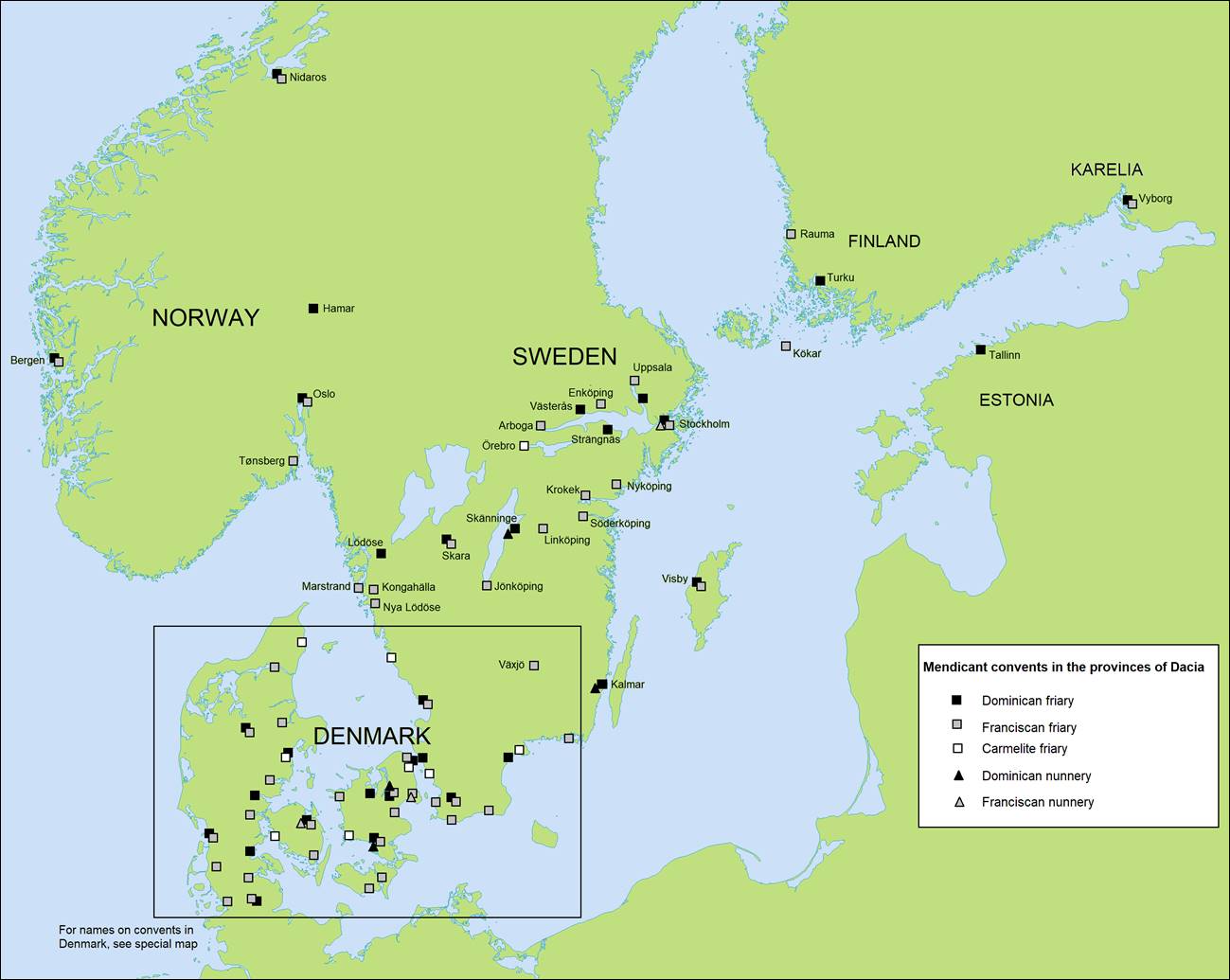 <![endif]>
Map of mendicant convents in the provinces of Dacia. For names on the convents in Denmark, see special Danish map further down this page. © Centre for Mendicant Studies of Dacia.
The Dominicans (Friars Preachers, Blackfriars)
<![if !vml]>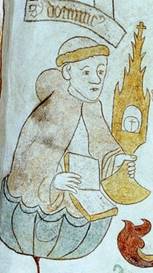 <![endif]>Only six years after its formation, the Dominican Order had its first Scandinavian convent established in Lund in 1222. Within the next fifty years, Dominican convents were founded in basically every urban centre in Scandinavia of ecclesiastical importance: Ribe (1228), Roskilde (1231-34), Sigtuna and Skänninge (1237), Schleswig and Skara (1239), Nidaros, Oslo and Visby (1230-40), Västerås (1244), Viborg, Århus and Bergen (before 1246-47), Turku (1249), Haderslev (1251), Odense (before 1252), Åhus (before 1254) and Strängnäs (1268); the only missing church centres were Børglum (which had no town), Copenhagen, Växjö, Uppsala (accessible from Sigtuna) and Stavanger, along with Hamar (where a convent was eventually founded before 1511). The main initiators behind these foundations were the bishops. A handful of centres of royal importance were added to the list with Kalmar and Lödöse (1243), Helsingborg (1275) and Stockholm (around 1340), along with a short-lived convent  (1253-1261) in Vordingborg, the centre of Danish crusades into the Baltic Sea region, which Dominican friars promoted through preaching and the collection of vows, payments and redemptions. In addition to these, a series of Dominican convents were established in Danish market towns of regional importance – Halmstad (1250-60s), Næstved (1260s), Holbæk (1275) and Vejle (1325) – where the prime initiative was taken by local magnates and town councils, the latter to secure continued urban status and privileges. Also, in 1441 a Dominican convent was founded as one of three mendicant houses in a grand-scale royal project to promote Helsingør as the new urban centre of the Kalmar Union. Within the Nordic-governed provinces outside Scandinavia proper, convents of Friars Preachers were established in Tallinn, Estonia (1229/46), and Vyborg, Karelia (1392). A final convent was founded in the episcopal see of Hamar, Norway (before 1511). In addition to the male convents, four Dominican nunneries were founded in Roskilde (1263), Skänninge (1281), Kalmar (1299) and on Gavnø (1403).
Especially in the 13th century, leading friars of the Dominican Order held high esteem in Denmark as experts on theology and foreign diplomacy. The friary schools were to some extent open to outside students, especially parish clergy and young people aimed for an ecclesiastical career. The outward pastoral orientation of the mendicant orders meant that their friary churches were located in urban centres or by city gates to become as visible and easy-accessible as possible for lay visitors, who would come to the churches to hear sermons, attend masses and give confession. Although based in urban locations only, the Friars Preachers – in Scandinavian also known as Sortebrødre or Svartbröder ('Blackfriars') – were also very much present in the surrounding countryside, where all rural parish churches were likely to see a Dominican 'guest preacher' twice a year. In return, the friars performing these biannual rural campaigns, termed terminario, brought home alms of money, food and other material goods to the convent. As mendicant friars, the Dominicans were not formally allowed to own any rent-giving property outside their own friaries, but virtually all Danish convents held some urban houses and meadows to support their livelihood. The convents in Vejle and Odense were unusually rich on such outside property, the former almost owning half of the urban houses, meadows and cabbage gardens in Vejle. This relaxation was encountered by an internal Observant reform within the order in the late 15th century, as part of which the convents in Tallinn, Turku, Vyborg, Schleswig, Haderslev, Ribe and Vejle joined the reformed Dutch Congregation.
The Franciscans (Friars Minor, Greyfriars)
<![if !vml]>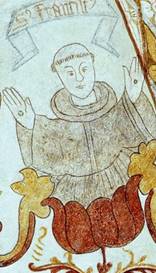 <![endif]>In terms of number of convents, the Franciscans became the largest monastic order in medieval Scandinavia, with a total of fifty-two houses by the time of the Reformation. Most of them were founded in the 13th century: Ribe (1232), Visby (1233), Schleswig (1234), Söderköping and Viborg (1235), Randers and Svendborg (1236), Roskilde (1237), Copenhagen and Tønder (1238), Krokek and Lund (1238-39), Kalundborg (c.1240), Næstved (c.1242/1270), Uppsala (1247), Bergen, Enköping and Ålborg (c.1250), Tønsberg (c.1260), Horsens (1261), Flensburg (1263), Trelleborg (1267), Ystad (1267), Kungahälla and Stockholm (c.1270), Odense (1279), Nyköping (1280), Arboga (1285), Nysted (1286), Linköping (1287), Kolding (1288), Oslo (c.1290) and Marstrand (before 1291). While some of them had bishops and canons secular as their main initiators, far the bulk were founded by noble magnates; especially Countess Ingerd von Regenstein stands out with no less than five foundations! An additional series of new houses came in the 15th century: Vyborg (before 1403), Nykøbing (1419), Malmö (1419), Helsingør (1420), Nidaros (c.1430), Rauma (c.1440), Kökar (c.1460), Nya Lödöse (1481), Køge (1484), Växjö (1485), Torkö (c.1489) and Husum (1494); most of these late medieval houses were established on royal (or ducal) initiative. Moreover, four female Franciscan or 'Clarissan' convents were founded in Scandinavia: Roskilde (1256), Stockholm (1289), Copenhagen (1497) and Odense (1522) – the latter as the last monastic foundation in medieval Scandinavia.
Due to their higher number of convents, the Friars Minor or Gråbrødre ('Greyfriars'), as they were also known in Scandinavian vernacular, were more commonly based in the smaller towns than were the Dominicans, but it is otherwise quite difficult to identify any systematic differences in their activities in Denmark. The convents of both orders were highly focused on the rural terminario-campaigns with a combination of preaching and collection of alms, and in spite of scholarly attempts to claim particular connections to certain groups in society (including a claim for a female preference for the Franciscans), actual analyses of recorded donations show almost identical patterns between them. In both cases, the main donors were found among the higher clergy and the nobility, whereas the often-claimed dependence on urban bourgeoisie is hard to see for any of them.
Just like the Dominicans, the Franciscan convents in Scandinavia were organized in a semi-autonomous province by the name of Dacia. After the de facto formation of the Kalmar Union in 1389, national tensions began to emerge between the Danish convents and the Swedish-Norwegian convents, as the latter – probably rightfully – complained that the Danes controlled the province unfairly. When the Franciscan Observance began to spread in the second half of the 15th century, almost all the Danish convents were eventually reformed, while the Swedish and Norwegian house remained conventual – and thereby freed themselves somewhat from the Danish influence.  Four of the Franciscan convents in Denmark were even established as Observant houses: the two male ones in Køge and Husum, and the two female ones in Copenhagen and Odense. Unlike the conventual Clares in Roskilde and Stockholm, who owned extensive estates, the Poor Clares in Copenhagen and Odense were not allowed this way of income, and the two Observant nunneries soon experienced grave financial difficulties – especially as the Reformation began to kick in.
<![if !vml]>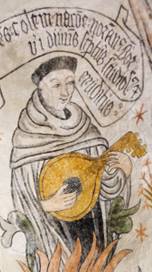 <![endif]>As the third and final mendicant order represented in medieval Scandinavia, the 'Whitefriars' of the Carmelite Order were introduced to the region in the early 15th century. This seems to have happened on the initiative of King Erik VII 'the Pomeranian' of Denmark-Norway-Sweden (r.1396-1439), who chose some rather remote coastal locations for the first Carmelite convents, where he had plans for future urban sea ports: Landskrona (1410), Skælskør (1418-23) and Helsingør (1430). Especially for the latter, the urban project did in fact develop into an actual city, as the only Scandinavian city with all three mendicant orders represented. Eventually followed more Carmelite convent foundations in Örebro (1445-48), Sæby (1469), Varberg (c.1470), Århus (c.1480), Sölvesborg (c.1485) and Assens (c.1500). Only the one in Århus was founded in what was already a city at the arrival of the friars. All eight Carmelite convents in Denmark were male, and they all had churches dedicated to the patron saint of the order: the Holy Virgin Mary. In 1462, it was decided to segregate the then four Scandinavian convents – three Danish and one Swedish – into a province of their own called Dacia. Even though the convent in Landskrona formally maintained a superior rank due to its seniority, the convent in Helsingør appears to have been the actual power centre of the province. Unlike the two major mendicant orders, the Carmelites in Denmark do not appear to have been involved with rural terminario; several of the friaries administered hospitals for people outside the order; and Carmelite theologians played a significant role at the University of Copenhagen founded in 1479.
<![if !vml]>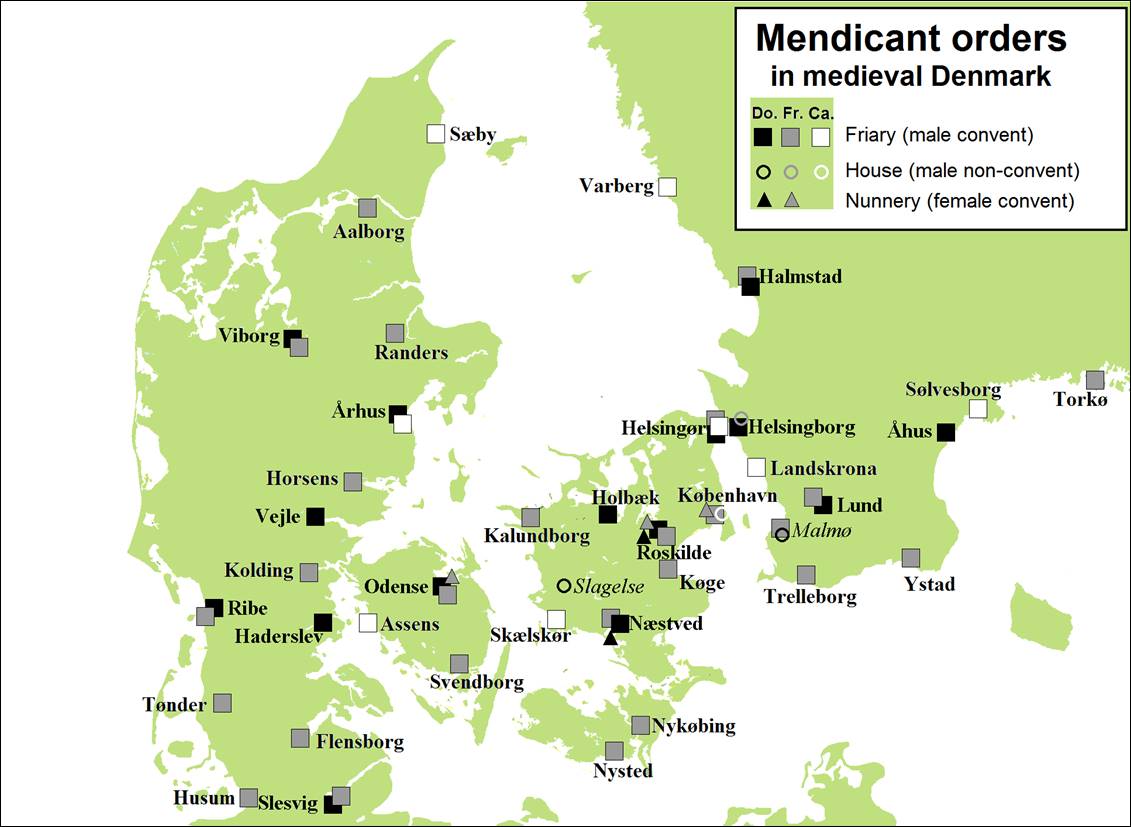 <![endif]>
Map of mendicant convents in medieval Denmark. © Centre for Mendicant Studies of Dacia.
<![if !vml]>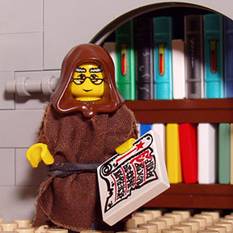 <![endif]>             Main literature
There is still no overall work on mendicant history in medieval Scandinavia. In recent years, Jakobsen (2015) has published on mendicant terminario in Scandinavia; Hill (1998) on mendicant relations to Danish royalty; Larsen (2018) on mendicant friary architecture in Denmark; and Berntson (2003) on the dissolution of mendicant convents in Sweden during the Reformation; while Ullern (1997) has performed a very qualified master's thesis on mendicant relations to the urban societies in medieval Norway. More studies have been made on the individual orders.
         The main work on Dominican history in the entire province of Dacia is Gallén (1946), while overall national studies have been made by Jakobsen (2008) for Denmark; Hommedal (1993) for Norway; Kilström (1976) for Sweden (with Finland); and Walther-Wittenheim (1938) and Kala (2013) for Estonia. For studies on particular themes for the entire province one may point out Halvorsen (2002) on the early years of the province; Schütz (2014) and Borgehammar (2018) on Dominican sermons; Gallén (1940) on Dominican annalistic writing; and Jakobsen on Dominican convent foundations (2011 and 2014a) and friary locations (2019a), along with the friars' involvement with a variety of themes such as mission (2018), crusades (2021a), veneration of saints (2019b), confraternities (2014b), poverty (2016), science (2021b), urban literacy (2021c) and the Lutheran Reformation (2019c).
         The main work on Franciscan history in the province of Dacia is Rasmussen (2002), while overall national studies have been made by Lindbæk (1914) for Denmark; Gunnes (1982) and Digernes (2010) for Norway; and Roelvink (1998) for Sweden. For studies on particular themes for the entire province one may point out Strömberg (1944) on Franciscan sermons; Almquist (1992) on Franciscan architecture; Blomquist (1982) on the provincial studium generale in Lund; Gallén (1993) on the order's expansion policy in the Baltic Sea region; and Rasmussen on Franciscan relations to the urban Scandinavian society (1992), the royal family around 1500 (2001), and the Franciscan chronicler Fr. Petrus Olai (1976).
         A basic work on Carmelite history in Denmark/Scandinavia still awaits to be written. Introductions in overview articles are provided by Mesters (1956), Dahlerup (1963) and Jørgensen (1979, 1986 and 1997). For studies on particular themes for the entire Carmelite province one may point out Lorenzen (1924), Bencard (1957) and Flensborg (1999) on the architectural history of the friaries and their wall paintings; while the main monography on a particular Carmelite convent is Gregersen (1982) on the one in Sæby.
                   Literary references:
Almquist, Boel (1992): 'Några problem rörande Franciskanordens medeltida byggnadsskick i Norden', in: Ystadiana 1992, 175-199.
Bencard, Mogens (1957): 'Carmelite art and architecture in Denmark', in: Carmelus - Commentarii ab Instituto Carmelitano editi 4, 50-84.
Berntson, Martin (2003): Klostren och reformationen – Upplösningen av kloster och konvent i Sverige 1523-1596 (Skellefteå: Norma).
Blomquist, Ragnar (1982): 'Franciskarnernas Studium Generale i Lund. Den första högskolan i Norden', in: Acta Academiae Uardiae Lundensis 9, 3-19.
Borgehammar, Stephan (2018): 'De svenska dominikanernas predikan', in: Visby, världen och Guds rike – Dominikanernas tid på Gotland, ed. R. Svenserud (Visby: Gotlands kyrkohistoriska sällskap), 123-147.
Dahlerup, Troels (1963): 'Karmeliterordenen', in: Kulturhistorisk Leksikon for Nordisk Middelalder 8 (Copenhagen: Rosenkilde og Bagger), 298-299.
Digernes, Louise (2010): Fransiskanernordenen i det norske middelaldersamfunnet, MA-thesis (University of Oslo); https://bora.uib.no/bora-xmlui/handle/1956/4119.
Flensborg, Jenny (1999): 'Kalkmalerierne i Sct. Mariæ Kirke og Vor Frue Kloster i Helsingør', in: Fra Frederiksborg Amt 1999, 5-67.
Gallén, Jarl (1940): 'Dominikanerna och den medeltida annalistiken i Danmark och Sverige', in: Historisk tidskrift för Finland 25, 27-43 and 103-126.
Gallén, Jarl (1946): La Province de Dacie de l'ordre des Frères Prêcheurs 1 – Histoire générale jusqu'au Grand Schisme (Helsingfors/Helsinki and Rome: Söderström & Co. and Institutum Historicum FF. Praedicatorum).
Gallén, Jarl (1993): Det »Danske itinerariet« - Franciskansk expansionsstrategi i Östersjön, ed. J. Lind (Helsinki: Svenska litteratursällskapet i Finland).
Gregersen, Hans (1982): Karmeliterklostret i Sæby - Baggrund og historie (Sindal: Grebo).
Gunnes, Erik (1982): 'Frans' disipler i Norge gjennom 300 år', in: Frans av Assisis' skrifter, ed. E. Gunnes (Oslo: Anis), 169-201.
Halvorsen, Per Bjørn (2002): Dominikus - En europeers liv på 1200-tallet (Oslo: Novus).
Hill, Thomas (1998): 'Königtum und Bettelorden im mittelalterlichen Dänemark', in: Könige, Landesherren und Bettelorden - Konflikt und Kooperation in West- und Mitteleuropa bis zur frühen Neuzeit, , ed. D. Berg (Werl: Dietrich-Coelde-Verlag), 175-206.
Hommedal, Alf Tore (1993): 'Olavsklosteret i Oslo og dei andre norske dominikanaranlegga i mellomalderen', in: Seminaret »Kloster og By«, 11.-13. november 1992 - Omkring Olavsklosteret, premonstratenserordenen og klostervesenet i middelalderen, eds. J.E.G. Eriksson & K. Schei (Tønsberg: Tønsberg Bibliotek og Riksantikvaren), 154-173.
Jakobsen, Johnny Grandjean Gøgsig (2008): Prædikebrødrenes samfundsrolle i middelalderens Danmark, PhD-dissertation (University of Southern Denmark); http://www.jggj.dk/phd-afhandling.pdf.
Jakobsen, Johnny Grandjean Gøgsig (2011): 'Venerunt fratres predicatores - Notes on datings of the first Dominican convent foundations in Scandinavia', in: Collegium Medievale - Interdisciplinary Journal for Medieval Research 24, 5-22.
Jakobsen, Johnny Grandjean Gøgsig (2012): 'Why Dacia? The background for a peculiar province name', on: Centre for Dominican Studies of Dacia; http://www.jggj.dk/Dacia.htm.
Jakobsen, Johnny Grandjean Gøgsig (2014a): 'Who ordered the Dominicans? - Initiators behind Dominican convent foundations in Northern Europe, c. 1216-1350', in: Monastic Culture - The long thirteenth century. Essays in honour of Brian Patrick McGuire, eds. L. Bisgaard & al. (Odense: University Press of Southern Denmark), 240-267.
Jakobsen, Johnny Grandjean Gøgsig (2014b): 'Friends of the friars - Confraternal relations of the Dominican Order in medieval Scandinavia', in: Bractwa religijne w średniowieczu i w okresie nowożytnym - Religious confraternities in the Middle Ages and the Modern Era, eds. D. Burdzy & B. Wojciechowska (Kielce: Wydawnictwo Uniwersytetu Jana Kochanowskiego), 53-68.
Jakobsen, Johnny Grandjean Gøgsig (2015): '»Them friars dash about« - Mendicant terminario in medieval Scandinavia', in: Travels and mobilities in the Midle Ages - From the Atlantic to the Black Sea, eds. M. O'Doherty & F. Schmieder (Turnhout: Brepols), 3-29.
Jakobsen, Johnny Grandjean Gøgsig (2016): '»Beggars in silky robes and palaces« - Dominicans preaching and practising poverty in medieval Scandinavia', in: Poverty and Devotion in Mendicant Cultures 1200-1450, eds. C.J. Mews & A. Welch (London & New York: Routledge), 164-184.
Jakobsen, Johnny Grandjean Gøgsig (2018): 'Dominican mission in the Baltic Sea region - with comparative looks to mendicant mission on the entire East-European frontier', in: Journal of Medieval Monastic Studies 7, 201-235.
Jakobsen, Johnny Grandjean Gøgsig (2019a): 'At Blackfriars Priory - Dominican Priories within Urban Geography in Medieval Scandinavia', in: Monastic Europe - Medieval Communities, Landscapes, and Settlement, eds. E. Bhreathnach, M. Krasnodębska-D'Aughton & K. Smith (Turnhout: Brepols), 331-356.
Jakobsen, Johnny Grandjean Gøgsig (2019b): 'Saints gone monastic - Dominican cult of saints in the medieval Baltic Sea Region', in: Journal of Medieval Monastic Studies 8, 169-205.
Jakobsen, Johnny Grandjean Gøgsig (2019c): 'The Dominicans and the Reformation in Northern Europe', in: The Dissolution of Monasteries - The case of Denmark in a regional perspective, eds. P. Seesko, L.N. Kallestrup & L. Bisgaard (Odense: University Press of Southern Denmark), 75-103.
Jakobsen, Johnny Grandjean Gøgsig (2021a): 'Preachers of war - Dominican friars as promoters of the crusades in the Baltic region in the thirteenth century', in: Christianity and war in medieval East Central Europe and Scandinavia, eds. R. Kotecki, C.S. Jensen & S. Bennett (Leeds: Arc Humanities Press), 97-115.
Jakobsen, Johnny Grandjean Gøgsig (2021b): 'Friars of science: Dominican transmission and usage of scientific knowledge in medieval Scandinavia', in: Medieval science in the North: Travelling wisdom, 1000-1500, eds. C. Etheridge & M. Campopiano (Turnhout: Brepols), 141-158.
Jakobsen, Johnny Grandjean Gøgsig (2021c): 'The Dominican Order and Urban Literacy in Medieval Scandinavia', in: Urban Literacy in the Nordic Middle Ages, eds. K.H. Andersen & al. (Turnhout: Brepols), 375-410.
Jørgensen, Kaare Rübner (1979): 'De hvide brødre i Helsingør', in: Helsingør Bymuseum - Årbog 1979, 5-63.
Jørgensen, Kaare Rübner (1986): 'Om Karmeliterordenen i Danmark - Spredte meddelelser på grundlag af fund i udenlandske arkiver', in: Kirkehistoriske Samlinger 1986, 39-41.
Jørgensen, Kaare Rübner (1997): 'The Carmelite Order in medieval Scandinavia', in: St. Ansgar's Bulletin 93, 8-11.
Kala, Tiina (2013): Jutlustajad ja hingede päästjad - Dominiiklaste ordu ja Tallinna püha Katariina konvent (Tallinn: Tallinna Ülikooli Kirjastus).
Kilström, Bengt Ingmar (1976): Dominikanska perspektiv (Stockholm: Verbum).
Larsen, Morten (2018): Danmarks middelalderlige tiggerklostre - franciskanernes og dominikanernes bygningskultur (Højbjerg: Jysk Arkæologisk Selskab).
Lorenzen, Vilhelm (1924): De danske Karmelitterklostres Bygningshistorie, 'De danske Klostres Bygningshistorie' 5 (Copenhagen: G.E.C. Gad).
Mesters, Goldulphus (1956): 'The Carmelite province of Denmark, 1410-ca. 1540', in: Carmelus - Commentarii ab Instituto Carmelitano editi 3, 217-242.
Lindbæk, Johannes (1914): De danske Franciskanerklostre (Copenhagen: G.E.C. Gad).
Rasmussen, Jørgen Nybo (1976): Broder Peder Olsen som de danske franciskaneres historieskriver (Copenhagen: Den Danske Historiske Forening).
Rasmussen, Jørgen Nybo (1992): 'Die Bedeutung der nordischen Franziskaner für die Städte im Mittelalter', in: Bettelorden und Stadt, ed. Dieter Berg (Werl: Dietrich-Coelde-Verlag), 3-18.
Rasmussen, Jørgen Nybo (2001): 'Christina von Sachsen, Dänemarks franziskanische Königin', in: Medieval spirituality in Scandinavia and Europe: A collection of essays in honour of Tore Nyberg, eds. L. Bisgaard & al. (Odense: Odense University Press), 309-323.
Rasmussen, Jørgen Nybo (2002): Die Franziskaner in den nordischen Ländern im Mittelalter (Kevelaer: Butzon & Bercker).
Roelvink, Henrik (1998): Franciscans in Sweden (Assen: Van Gorcum).
Schütz, Johannes (2014): Hüter der Wirklichkeit - Der Dominikanerorden in der mittelalterlichen Gesellschaft Skandinaviens (Göttingen: V&R unipress).
Strömberg, Bengt (1944): Magister Mathias och fransk mendikantpredikan (Stockholm: Svenska kyrkans diakonistyrelses bokförlag).
Ullern, Inger-Johanne (1997): Tiggerordenene i de norske middelalderbyene, MA-thesis (University of Oslo).
Walther-Wittenheim, Gertrud von (1938): Die Dominikaner in Livland - Die natio Livoniae (Rome: Institutum Historicum FF. Praedicatorum).
Centre for Mendicant Studies of Dacia
Johnny Grandjean Gøgsig Jakobsen, Department of Nordic Studies and Linguistics, University of Copenhagen
Postal address: Emil Holms Kanal 2, 2300 Copenhagen S, Denmark. Email: jggj@hum.ku.dk