Biographical notes on
Humbert of Romans OP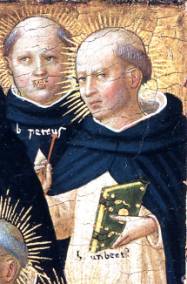 Humbert of Romans (Humbertus de Romanis, c.1200-1277), the fifth master general of the Order of Preachers, 1254-1263. Humbert was born at Romans-sur-Isère in south-eastern France (c.80 kms south of Lyons). As a young man, he went to Paris to study theology and canon law, becoming a Master of Arts before joining the Order of Preachers in 1224. In 1226, Humbert was appointed lector of theology for the convent in Lyons, for which he was conventual prior in 1237. Around 1238, he was elected prior provincial for the province of Romana, he received several votes at a papal election in 1241, in 1244-45 he was elected prior provincial of Francia, and finally, in 1254, the general chapter elected him master general of the Order. During his generalate, which lasted to 1263, Humbert contributed significantly to a re-organization and homogenization of the Order, an improved relation to the Franciscan Order, and a joined mendicant defense against their many secular critics. After leaving the office of master general in 1263, he went back to his old convent of Lyons, where he continued his series of numerous writings. Humbert died on 14 July 1277 and was buried in Valence (near Romans). He became venerated as Blessed within the Order, but was never officially beautified.
Humbert has left us a number of written works of various kinds. These include a commentary on the Rule of St. Augustine and the Dominican constitutions (Exposito regulae beati Augustini Episcopi et super constitutiones fratrum praedicatorum), a treatise on the formation of preachers (De eruditione praedicatorum), supplemented with a series of model sermons, a treatise on the various officials in Dominican convents (Instructiones de officiis ordinis), a manual for preachers of the crusade (De predicatione crucis contra Saracenos), a short comment on the ways in which the brethren were bound by Dominican constitutions and decrees (Epistola de regularis observantia disciplinae), and finally the work Opus tripartitum with competent analyses of the state of the Western Church, relations between Greeks and Latins, and conditions of the Holy Land. Humbert also functioned as collector and publisher of earlier Dominican material, such as Fr. Gerald de Frachet's famous "Life of the Brethren" (Vitae fratrum) and a Legenda sancti Dominici.
Lit.: William A. Hinnebusch OP, The History of the Dominican Order, vol. 2, New York 1973, 288-294; Simon Tugwell OP, 'Introduction', in Early Dominicans : Selected Writings, New York 1982, 31-35; Edward Tracy Brett, Humbert of Romans : His life and views of thirteenth-century society, Toronto 1984.
De predicatione crucis contra Saracenos ("On Preaching the Cross against the Saracens").
Written by Humbert soon after the Saracens had taken Sephed in 1266 as a tool of assistance for the friars, whom the pope had commisioned to preach a new crusade to the Holy Land. In 46 chapters, Humbert prepares the friars for the task and provides them with ideas and materials for their sermons. Apparently, the crusade preaching manual was still considered highly valuable in fifteenth-century Germany. A summary is published by Lecoy de la Marche in "La prédication de la croisade au XIIIe S.", Revue des questions historique vol. 48 (1890), 5-28.
De predicatione crucis contra Saracenos is now available in extenso online in an edition by Kurt Villads Jensen, University of Southern Denmark 2007.
Centre for Dominican Studies of Dacia
Johnny G.G. Jakobsen, Department of Scandinavian Research, University of Copenhagen
Postal address: Njalsgade 136, DK-2300 Copenhagen, Denmark ● Email: jggj@hum.ku.dk